3 Easy DIY Winter Holiday Craft Ideas for Kids
Here are 3 easy winter crafts for kids that they will love this holiday season!  Most of these kids-friendly DIY projects requires no more than your common household items so they can be easily found at home or simply purchased from a local dollar store (or even a party supply store). These arts and crafts projects are also a great decoration your home during the holidays or for your winter party! All of these 3 kids craft ideas will help your kids discover their own creativity as well as fine tuning his / her fine motor control skills. 
1. DIY Gingerbread Man Craft Activity 
Have an open ended but fun activity for the kids by decorating a Gingerbread Boy or Girl or even an Alien! You can do this with decorating a holiday sweater theme as well. Any time when there is a table full of sparkly supplies and bottles of glue, kids go wild! 
Not only is this activity a great way for kids to explore their creativity, it also fine tunes their motor skills. This is also an activity that is very easy to set up. You just need a whole bunch of craft supplies such as small poms poms, googly eyes, buttons, gem stone stickers pieces of ribbon and some bottles of glue and you're good to go!
First, find a template of a Gingerbread person online or you can download here: http://www.supercoloring.com/coloring-pages/blank-gingerbread-man
and trace them on brown paper and cut out the shape. Repeat several times. Then layout all the supplies on a serving tray with several divided compartments. You can find them for cheap and various colors at a paper craft store or at Dollar Tree like this one. (https://www.dollartree.com/flower-shaped-plastic-veggie-dip-trays-155-in/110523) Cupcake liners are economical and also make great containers for these types of crafts supplies. Then just have the kids have a blast at decorating their own unique Gingerbread Boy or Girl! Having a completed Gingerbread person made is helpful for the kids to see what the finished product will look like.
Source: MomInspiredLife
2. DIY Snowflake Art Activity (with Coffee filter, Straws and Pinwheel Pasta Snowflakes) 
Who would have thought you can make a neat snowflake craft from 3 easily found common household items? For this DIY snowflake art activity, you just coffee filters, straws pinwheel pasta along with some paint and glue will help create something that can be hung on a christmas tree or decorate any winter themed party! This craft is also a good way to engage any child's creativity as well as teaching them the concept of shapes and symmetry.
Start off by gathering all your supplies. You will need coffee filters, blue or blue striped straws, pinwheel pasta, blue and purple watercolor paints and some bottle glue.
First paint the coffee filters blue or purple of a mixture of the colors and set aside to dry. While the coffee filters are drying, cut straws into 1 inch and 2 inch sections. You will need around 2-3 full length straws per coffee filter.  Once the coffee filters are dry, ask the students to lay out their design first so they have an idea of what the snowflake design looks like before they start using glue. Once the designs are finalized, use school bottle glue to glue the pinwheel pasta and straw sections to make their snowflakes! Simple, easy and economical!
Source: Iheartcraftythings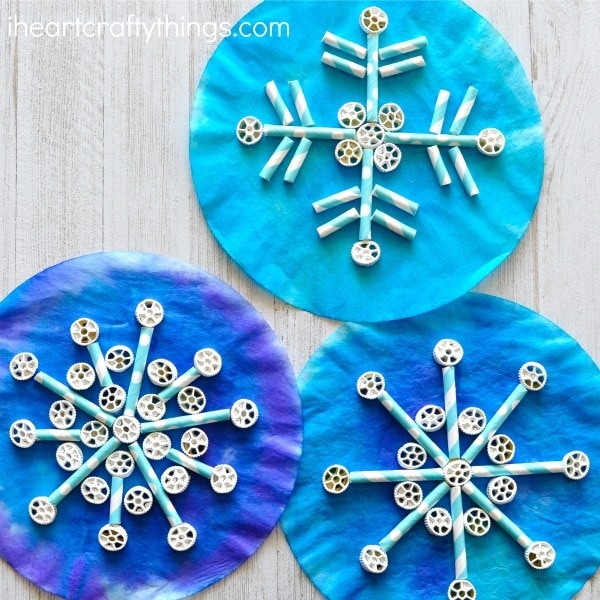 3. DIY Candy Cane Ornaments Activity
Only 2 items is needed to complete this fun candy cane ornament craft; pipe cleaners and beads in the colors of red and white (even different color beads can be used for other party themes because candy canes nowadays are also comes in a variety of rainbow colors as well).
Simply cut the pipe cleaners to the desired length you want your candy canes. Start by threading 1 bead onto the pipe cleaner first, wrap the end of the pipe cleaner around the bead to fasten it then start creating your own unique candy canes with any color you like. Leave a little room before the final bead to wrap the end around. Then slightly bend the top to shape it like a candy cane...and voila you are done! This craft does not require much supervision and kids can also practice their fine motor skills. Hang these up in the classroom or have the students bring home to hang on their mantel or winter tree.
Source: The Joy of Boys
Easy peasy and Fun! These winter craft ideas for kids are great for any winter holiday parties, or simply a fun and easy kid's activity time.  Not only is it an easy craft but it's a great way to build a kid's ability to control and their motor skill sets!